Wanna Win a $300 Worth of Brand New COACH Satchel Bag?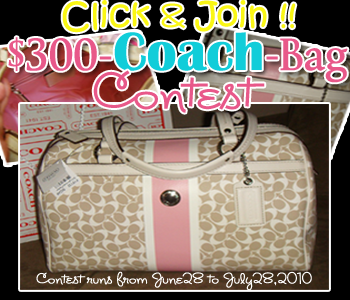 Main Sponsors:
I never owned an expensive bag ever in my entire life because most of my bags are from Ukay-Ukay and others are just cheap ones where the price is below P300. Now I am happy to know that Mommy Umma is having a $300 Worth Brand New COACH Satchel Bag Contest and I am so excited to join this contest too and I am sure those Bag lovers like me are surely drooling for this bag that's why I am inviting you to join also.
Coach Satchel Bags are made with only superior craftsmanship,truly reflect the Coach image that is so well loved by all Fashionistas.The famous Coach line is with no question a leading luxury brand of bags.
This contest is by points system so whoever garnered the higher points will get the chance to be the lucky owner of this Coach Satchel Bag as they will be qualified for the random draw using random.org.
The contest is open to all bloggers worldwide and it will run from June 28th until July 28th.
So, Girls... What are you waiting for? Join Now!