Nostalgia # 8 - My True to Life Story about Aswang / Manananggal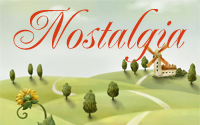 What we know is, The aswang or manananggal is a vampire from the Filipino lore. It is just a head with no body and organs trailing behind. It also has bat-like wings, giving it the ability to fly. By day this vampire is either a man or woman who is usually a repectible member in the community or even a close family member. By night they fly around with small birds, which help the aswang / manananggal locate prey. They feed on human flesh, organs, blood, and even mucus. Their favorite is a fetus or newborn. They are equipped with a long tongue ideal for sucking fetuses out of the womb. If you are pregnant and want to protect yourself, the best way is to wear a necklace made out of bullets and by smearing coal dust on your stomach.
Now, here's my true to life story that I could not forget when I was 7 months pregnant. As you can see from the photo above, we used to live in that house where we rented it for a few months. It's near the hillside and it is surrounded with fruit trees and plants. It's not quite from the city but its a nook place where only trisikad or taxi can enter.
Since I was pregnant at that time, I don't usually go out and I just prefer to stay at home. One of my favorite things to do is washing our clothes using my hands and I love doing it during night time. I usually hang our clothes outside and leave it overnight. There were several times when I heard an "Ek-Ek" sound outside. They were like 2 or 3 of them who seemed like flying around surrounding our house. There was also a time when me and my hubby are sleeping and I heard like someone who is walking around our rooftop and is trying to pull out our roof. I immediately awaken my hubby and told him if he hears something on the roof but he said he doesn't heard any.
I actually don't believe in Aswang or Manananggal but at that time, I suddenly remember that maybe they are really true. I haven't seen them but I heard that "Ek-Ek" sound just like what we usually saw on the movies about this creatures.They said that aswang loves a pregnant woman because they want the fetus and suck it out from the stomach. They also love the smell and scent of the pregnant woman that's why they keep coming back sniffing my clothes.

One day, my mother-in-law told me if I just leave my clothes hanging overnight outside and I said yes and she said that I don't do it again because there are really Aswang here in our place. She told me about the story of her neighbor and friend where she also has experienced being visited by Aswang. She also live just a few walks away from the house that we used to live before.
My mother-in-law is the Pastor of our church and she advised me to open the Bible and read the whole Chapter of Psalms 91 where it talks about how God will protect me from harm and He will command his angels to guard me anytime. She also told me to put the Bible in our window leaving the Bible open on that page and chapter of Psalms 91. I followed what she told me and from that night, I never heard any "Ek-Ek" sound again. That clearly shows how powerful the Word of God is.