When I Sang in Front of Many People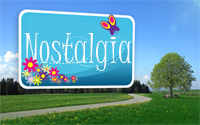 It's time to share our Nostalgic moments here in Nostalgia and this time I want to share my experience when I sang in front of many people. Way back in my high school days, I used to be a dancer and choreographer of our modern dance group in school. I was never a singer. Though I know how to sing but I prefer dancing since this is my favorite hobby. But when I got married and became a Christian, I was enticed to develop my talent in singing because I just love to sing all those Christian songs that inspires me a lot. Since then, I used to be the back up singer and eventually became the worship leader or the vocalist of our music team in our church.
We also used to fellowship with other churches where me and my fellow band mates will play and have a presentation number and specially when we do the 30 minutes to 1 hour non-stop praise and worship service. Every time we were invited to perform on stage, I still have that butterflies in my stomach where I also get nervous and has a stage fright specially when there are a lot of people around. That would be my feelings at first, but eventually, I'd be able cope it up and overcome those stage fright and fear after we had done it.
Below is a video of me and our music team performing as we lead the praise and worship service. ( I am the one in white t-shirt and pink pants ) Sorry for the not so clear video and audio. Our camera's not good in recording video.
The Title of this song is
With All I am from Hillsong
Lyrics:
Into Your hands
I commit again
With all I am, for You, Lord
You hold my world
In the palm of Your hand
And I am Yours forever
Jesus I believe in You
Jesus I belong to You
You're the reason that I live
The reason that I sing
With all I am
I'll walk with You
Wherever You go
Through tears and joy
I'll trust in You
And I will live
In all of Your ways
And Your promises, forever
I will worship
I will worship You