Pasko sa Agosto: My $50 Cash Giveaway
(Note: This is a sticky post, please scroll down for my latest blog post )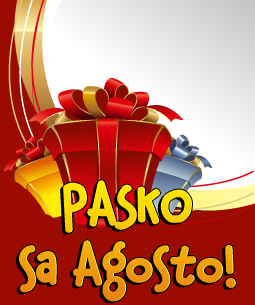 The spirit of Christmas is here this month of August as I will be giving away $50 Paypal cash to my one lucky follower! This is my way of thanking you my dear followers and readers of my blog. I'm glad to be part of the blog caravan giveaway for "Pasko sa Agosto" where we will be giving lots of goodies, stuffs and cash prizes.
To join my giveaway, just follow this simple mechanics:
1. Like My Life and My Journey Online Facebook Fan Page.
2. Like Kayce's Online Diary page.
3. Like Fashionably Trendy page.
4. Like Trips and Travels page.
5. Like Our Home Sweet Home page.
For additional entries:
*Visit and Follow My New Blogs listed below via Google Friend Connect
(located on my blogs sidebar)
1. Techie Kayce
2. My Shopping Bag
3. Our Music Life
4. Trips and Travels
5. From Flab to Fab
*Follow Me on Twitter
To submit your entry:
1. Just leave comment on this post and include the following information:
Facebook Name you used to Like
Google Friend Connect username you used to follow my blogs.
Twitter name/account used to follow
Please include your complete name and email address too so I could contact you if you win.
That's it! It's so easy-peasy right?
This giveaway will end on August 31, 2011 and the winner will be drawn using random numbers via random.org.
Join the fun and win fabulous and exciting prizes together with my fellow blogger giveaways listed on the "Pasko sa Agosto" badge above.
Good luck everyone! ^_^