Manny Pacquiao is Still the World's Best Boxer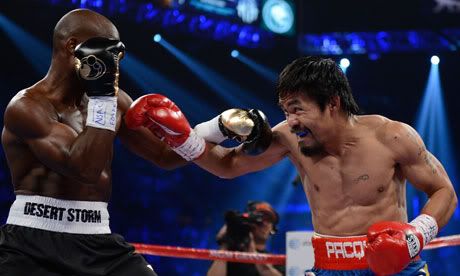 The boxing fans in the whole world mourns specially here in the Philippines when in a stunning and incredibly unbelievable decision, Timothy Bradley won a split decision victory over our all time bet world champion Manny Pacquiao at the MGM Grand Garden Arena in Las Vegas, Nevada. We don't have a cable TV at home, good thing an online friend gave me the link of the fight through live streaming online.
I was able to watched the fight and I clearly saw Manny threw a lot of punches and he did a good fight. Thousands of comments pouring end from fans all over the world specially in Twitter. Even the Hollywood stars speaks about the fight.They just couldn't believe that the judges apparently based their scoring on the number of hugs. We are all disappointed on the judges decision because we all know who really won. They said that they will have a rematch soon. I think this is a part of the game plan for more money in this boxing game. tsk tsk! Oh well, win or lose I believe that Manny Pacquiao is still the World's Best Boxer.