SEO Workshop on How to Get More Out From Your Blogs
I attended a workshop about SEO a few weeks ago and I am so thankful for this event because I learned a lot on how I could get more out from my blogs. I was asked by one of the speakers about my expectations from this workshop and I told everyone that even though I have many blogs and Ive been blogging for 2 years now, I still consider myself as a newbie in blogging because I actually don't know much about search engine optimization.
Yeah I can search for answers in Google but its quite different when an SEO expert will explain to you personally. You can ask some questions and you can easily get an answer. I listened carefully to each of the speakers and even wrote down the important information out from the lessons that Ive learned.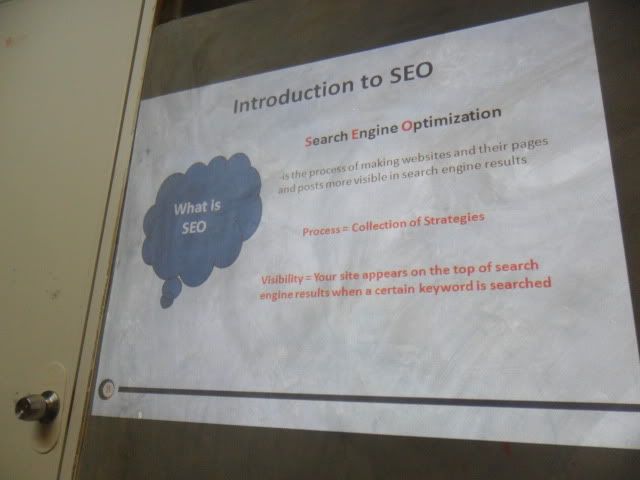 The objectives of the workshop was to determine how to make our blogs better through SEO, understand the basic SEO principles and strategies, apply this strategies on our blogs and also acquire an insider knowledge or shall we say their SEO secrets, tips and advice from the SEO experts that we hired for this workshop.
I have learned the importance of SEO on our blogs. It really helps to get our site high up as possible in search engine results. I learned the important factors such as knowing what do we have to do on our site and what's going on outside of our site where the pages or site are linking to us. I also learned how to drive traffic to our blogs and increase its page rank. The speakers even shared their secrets on how to underground competitors and to attract direct advertisers so they could purchase an ad on our site. :)