Discover Anything & Everything about CDO With Just One CLIX!
Clix is actually an online directory of establishment found and operating in the city. It has all the information you need about CDO's establishments, plus features on personalities, events and places in CDO. Its creation was fueled by the desire to help people find everything they need to make their experience in Cagayan de Oro more than worthwhile.
during Clix.com.ph Launching and Press Conference
It was conceptualize in 2013, at a time when the city was experiencing changes brought about by a new administration, Clix is a part of the positive change that's all over CDO nowadays. It is the prime mover in the field of localized directories. It is the first of its kind where it combines a multi-category business listing, an events page, move and delivery listings and a blog that highlights all the hip and happening places and events around the city. With Clix, going around the city and finding what you need has become a welcome convenience. It is your guide to anything, everything and everyone that is in Cagayan de Oro.
So, every time you need something CDO-related, all that you need to do is go to clix.com.ph and you'll find whatever it is you're looking for!
By the way, Clix are having their Geek Wars happens this Friday, August 22,2014 from 6pm to 9pm, at the Lifestyle District Garden.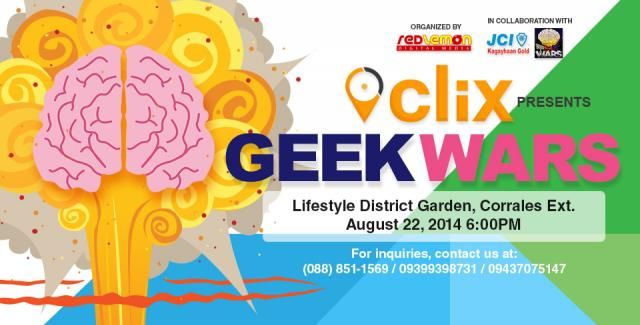 Tickets at Php50 are available at RedLemon Digital Media, Ground Floor, St. Gregory Bldg, 6th-17th Streets, Nazareth (6th street is the one in front of Loreto's). Tickets also available at Fit Republic Gym, 2nd level, Lifestyle District, Corrales Extension (across Capitol University). If you're also looking for a different kind of pre-fiesta fun, then why don't you join Cosplay Clix, which is happening on Saturday, August 23,2014 at the Limketkai Shopwise Hallway.
Cosplay Clix is an exciting event that will gather the city's best cosplayers. There will be two cosplay contest categories: Solo and Pair. Winners for both categories will receive cash prizes and gift items. Special awards for Best in Cloth and Best in Armor will also be handed out.