Get Ready For A Baking Revolution Caravan in CDO
Are you Ready For A Baking Revolution?
FineLab launches the FineBake® Bake-olution Caravan in Cagayan De Oro City and Davao City.The sweet smell of delicious success comes from the finest ingredients. Whether you're a business owner of a chain of bakeries or a mom wanting to whip up great snacks for her kids, you've got to have the bare essentials. Established bakeries and start-up homebakers from Cagayan De Oro City and Davao City and its nearby areas will get the chance to nurture their love for baking as FineLab Division
launches the FineBake® Bake-olution.
"Our focus on the finest ingredients will start the baking revolution here in Mindanao and that will be highlighted at FineBake® Bake-olution," said Mr. Leonardo M. Torres, President of Beauchem Thermtech Group, Inc., which FineLab is a Division.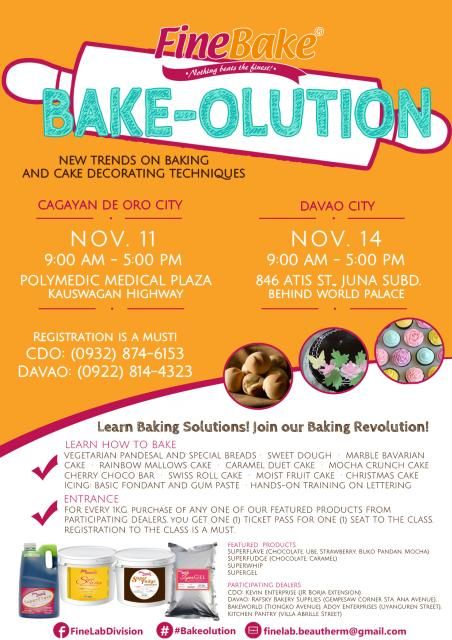 FineBake® Bake-olution's Cagayan De Oro Swing will be held at the Polymedic Medical Plaza along Kauswagan Highway on November 11 (Tuesday) at 9:00am while the Davao City Swing happens on November 14 (Friday) at 9:00am in Beauchem Building, No. 846 Atis Street, Juna Subdivision, Matina. With FineBake® Bake-olution, attendees will learn how to make Vegetarian Pandesal and Specialty Breads, Sweet Dough, Marble Bavarian Cake, Rainbow Mallows Cake, Caramel Duet Cake, Mocha Crunch Cake, Cherry Choco Bar, Swiss Roll Cake, Moist Fruit Cake, and Christmas Cake. How to make Basic Icing, and Gumpaste will also be taught. Apart from those, they will also get to experience hands-on training on lettering to beautify their baked goodies.
Interested? Just head on over to FineBake® Bake-olution participating dealers: Kevin's Enterprise in Cagayan De Oro City; and Rafsky Bakery Supplies, Bakeworld, Kitchen Pantry, and Adoy Enterprise in Davao City and purchase one (1) kg of any of FineLab's featured products – SuperFudge (Chocolate and Caramel), SuperFlave (Chocolate, Ube, Buko Pandan, Mocha, and Strawberry), SuperWhip and SuperGel – to get your ticket passes. Special on-the-day-only promos also await the attendees! Once attendees get hold of their FineBake® Bake-olution ticket passes, registration via text to (0932) 874-6153 (CDO) and (0922) 814-4323 (Davao) is a must.
The FineLab Division is a division of Beauchem Thermtech Group, Inc. that was established in 2011. Based in Mindanao, FineLab caters to bakeries, hotels, restaurants and bars, caterers, hospitals, and commissaries in Southern and Northern Mindanao that are in need of a supply partner for their food preparation requirements. From its own brand of baking ingredients and food machinery to imported wines and spirits and food packaging materials, FineLab aims to continue to be the top-of-mind supply partner of the food manufacturing, food service, and hospitality industries to name a few.
To find out more about Finelab, like our Facebook page: www.facebook.com/FineLabDivision.
For more information and other media-related inquiries:
Corporate Communications Officer Beauchem Thermtech Group, Inc.
Mobile Number: (0932) 843-2340
Telephone Number: (02) 820-8202
Email Address: nadelyn.torres@beauchemgroup.com